Vivian
Office Manager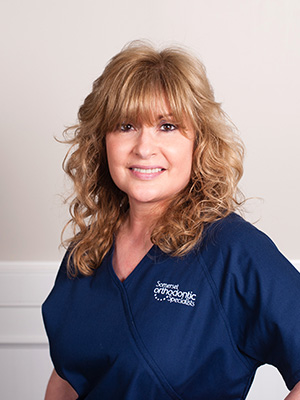 My day consists of greeting our patients, scheduling appointments, educating our patients and parents on treatment options, and discussing customized payment plans. Our knowledgeable and experienced team takes the time to get to know our patients on a personal level, which is one of the qualities about this office that I value the most. Not only do I love building relationships with our patients and their families, but I am also fortunate to work with doctors who are passionate about what they do. Our state-of-the-art digital technology allows the most current treatment options possible. Our patients have choices on which treatment best fits their lifestyle.
Not everyone can say that they have an awesome job and love what they do, but I am proud to say that I am one of the lucky ones.
Cindy
Front Office/ Insurance Administrator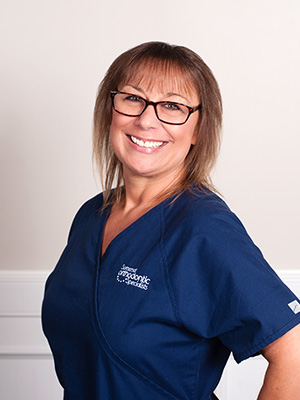 The best part of working at Somerset Orthodontic Specialists is the relationships I've built with such wonderful parents and their families. Every day is filled with beautiful smiles! You will find me at the front desk: greeting patients, answering the phones, and submitting insurance claims.
When I am not working, I love to spend time with family, friends, and my four children. My favorite time of the year is summer, where I spend all my time at my pool or at the beach with a good book!
Karen
Front Office/ Financial Administrator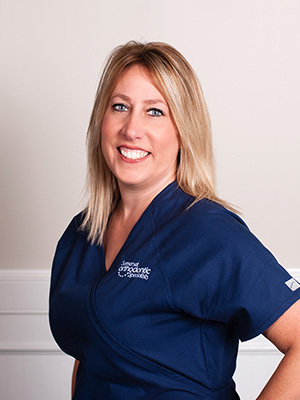 I am one of the first smiling faces you will see when you enter the doors of Somerset Orthodontic Specialists. My focus at our warm and friendly office is to ensure that every patient has a positive experience. Whether it's scheduling appointments, verifying insurance, or assisting you with financial questions, I will be sure to make you feel like a part of our dental family. Along with my every day duties, I am in charge of setting up all of the Dental Health presentations with the local elementary schools. It is a great feeling to know that our practice has such a positive impact on our community!
When I am not at work, I love spending time with my husband, my three children, and my dog Coco. I enjoy going to concerts, traveling, reading, and my all-time favorite, going to the beach!
Mindy
Orthodontic Assistant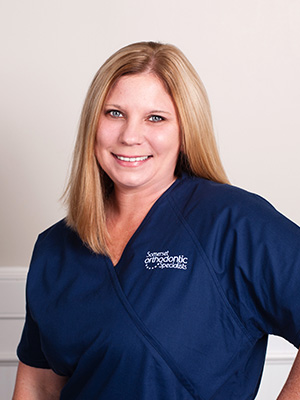 I am responsible for all clinical activities in the office, including making retainers, taking X-rays, keeping track of inventory, and most importantly, making sure our patients are having a great experience. I have a dental radiology license, and continue to learn the most up-to-date advances in dental technology as Dr. Peterman introduces them into our office.
Our office is a fantastic place to work. We are always having a great time with our patients and each other. Above all, I love seeing the amazing results the doctors accomplish every day.
When I'm not at work, I am busy being a mom! I enjoy exploring new places and spending time outdoors with my family. We enjoy camping, football, biking, days at the beach, and even the snow!
Jackie
Orthodontic Assistant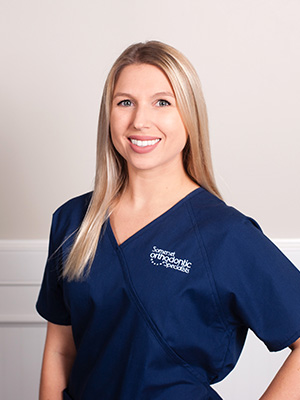 As an orthodontic assistant, I have the opportunity to give patients their perfect smile and see their progress with every appointment. Working in orthodontics has expanded my knowledge in the dental field and allowed me to continue learning the most up-to-date dental technology. I love the hands-on aspect of working with patients to achieve their orthodontic goals. What I enjoy doing the most is changing wires and making retainers. We have a warm and friendly working environment that makes coming to work fun!
In my spare time, I enjoy being with my friends and family, going to concerts, playing with my dog Tyson, and going to the beach!
Kilsy
Orthodontic Assistant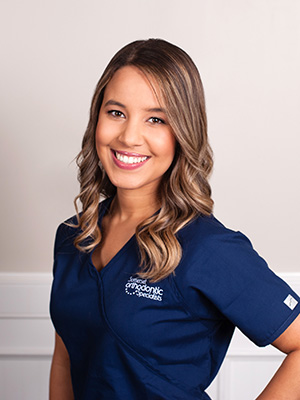 I have been a dental assistant since 2012. I truly believe orthodontics is the most rewarding field in dentistry, and after working in other dental fields, orthodontics is definitely my passion. I look forward to coming to work every day and love assisting Dr. Peterman in the creation of our patients' beautiful smiles. Seeing how happy our patients are at the end of treatment is always rewarding.
It is a joy to be able to spend every day with such a great group of people. I enjoy teaching patients and parents about oral health, the importance of wearing elastics, and cleaning their teeth while in treatment. I love that we are always looking for new and innovative ways to do things and to keep up with the latest technologies.
When I am not working at the office, I am a nanny and Zumba instructor. I also am very passionate about health and wellness and I love cooking for my family!
Alyssa
Orthodontic Assistant / Social Media and Marketing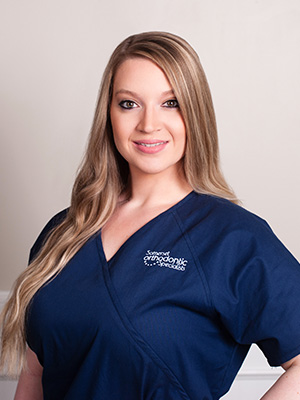 As an orthodontic assistant, I have the opportunity to work with patients every day! I love assisting with braces, changing wires, and taking X-rays. Dr. Peterman continues to introduce us to the latest technology, which makes for an exciting work environment. Aside from enjoying the hands-on aspect of being an assistant, I am responsible for all the social media and marketing for our office. You will always see me with the office phone, snapping fun videos and pictures of our patients! If you ever have any questions about office contests or our Instagram or Facebook pages, you can ask me!
In my free time, I love to work out! I also enjoy educating others about fitness, which inspired me to obtain my personal training certification in 2015. I love cooking and spending time with my family whenever I can!